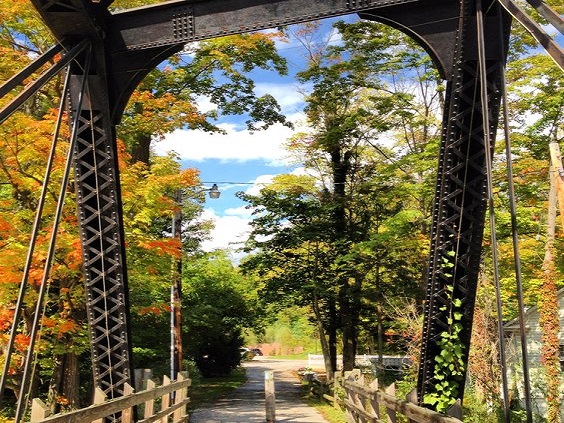 Gates Mills
Founded in 1826, Gates Mills is one of the most historic villages you will find in Northeast Ohio. It's also one of the most attractive communities in the area and has been considered so for approximately 180 years.
Let's take a look at some of the things inherently Gates Mills that continue to beckon people to the village. Who knows? You might find your dream home or next big real estate opportunity here.
Gates Mills was named after a local proprietor.

While I am unsure of the exact number of gates and mills in the village, I can tell you where Gates Mills got its name.

In 1826, Gates Mills was founded by a fellow named Holsey Gates, who owned a mill in the area. He purchased a total of 130 acres of land by the Chagrin River from Connecticut Land Co. Mr. Gates originally purchased the land to get a steady supply of water for his mill, but since the area is so ideally located, he saw to the construction of more mills in the village.

In only a few years after its foundation, Gates Mills became a thriving town with agriculture as its primary industry. But the New England atmosphere Gates Mills now possesses is thanks to the Gates Mills Improvement Society, which was established in 1905.

Gates Mills has remained unchanged for most of the 20th and 21st centuries.

Although there are some newly constructed homes in the area, not much has changed about Gates Mills. Now a primarily residential community, the mills in the village are no longer operational but remained preserved as a reminder of Gates Mills' early days. So if you're looking for a place to live in Northeast Ohio with an old world, New England vibe, Gates Mills should be on the top of your list.

If you're a resident, you get a Pink Sheet.

A part of life in Gates Mills is The Pink Sheet, which is the village's official newsletter. In fact, it's a quintessential part of community life in Gates Mills, with the newsletter having been around since 1948. Today, residents receive their copies of The Pink Sheet ten times a year, published by The Community Club.

Aside from the printed newsletter, residents and visitors can only read the latest editions of The Pink Sheet online here.

Gates Mills is served by Mayfield School District.

Location and old world atmosphere aside, Gates Mills is also served by a fantastic school district. Mayfield City Schools is recognized as one of the best in Northeast Ohio, its schools offering a wide variety of academic and extra-curricular programs, from the usual math and science classes to foreign languages and athletics.

Students who go to a school managed by Mayfield City Schools can also receive assistance in their education, whether it be technical or mentorship programs, advanced placement classes, or for those with learning disabilities.

The most notable school in the community is Gates Mills Elementary, which looks like it came straight out of a Norman Rockwell painting. A school with an excellent rating, Gates Mills Elementary was founded in 1927.
Gates Mills is undeniably one of the best places to live in Northeast Ohio. For more details about the community and the real estate options offered here, get in touch with Emily McLaughlin, the Gates Mills specialist on The Michelle McQuade Team, at 440.477.2475 or EmilyMcLaughlin(at)howardhanna(dotted)com.