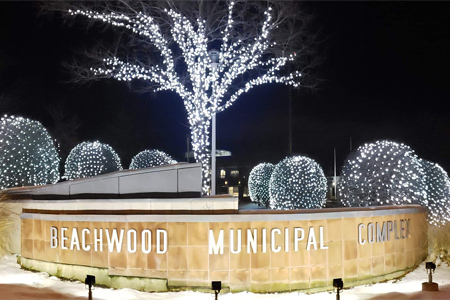 Beachwood
The city of Beachwood in Cuyahoga County is one that never fails to impress, especially with its dynamic urban setting and outstanding services provided to its residents. It has a strong economy, a diverse community, and highly-ranked schools. Located only 11 miles east of Downtown Cleveland, Beachwood also gives easy access to Cuyahoga County Airport, Cleveland Hopkins International Airport, and Akron Canton Airport.
Facts about Beachwood, OH
Beachwood is home to approximately 12,000 residents.
More than 18% of Beachwood residents are foreign-born. This is four times higher than the average rate in Ohio.
Its name was originally spelled Beechwood for the numerous beech trees growing in the area. Due to a simple clerical error made during the city's incorporation, the area was named Beachwood instead.
Nearly 3,000 companies call Beachwood home. These include the Eaton Corporation, SITE Centers, and TOA Technologies.
The human traffic in Beachwood, meaning the number of people coming here to work, shop, or visit, is estimated to reach more than 10,000 daily.
The city gives a 100% income tax credit to its residents. This allows those who work outside of Beachwood to receive 100% credit for income taxes paid to other taxing districts.
Residents are not charged extra for services, including sidewalk repair, senior transportation, and garbage disposal.
Some notable people from Beachwood include Samuel Glazer, co-founder of Mr. Coffee; and Marc Cohn, a Grammy Award-winning songwriter.
Homes for sale in Beachwood, OH
Beachwood's tranquil suburban landscape makes it the perfect escape from the pressures of big city life. It also provides the ideal setup for comfortable living, whether you have a growing family or are looking for a place to retire. Homebuyers have a wide variety of choices here to complement each individual's wants and needs.
Single-family homes are the most plentiful in the area. You will find them in a number of architectural styles, the most common of which are Craftsman and Cape Cod. There are even some large Georgian and stunning Tudor-style houses around.
The average home in Beachwood is two floors-high, with 2 to 4 bedrooms and 2 to 3 baths. Many of these sit on sizeable lots that feature spacious front lawns and beautiful backyard gardens. Most residential communities here have easy access to schools, hospitals, and commercial centers, as well.
Schools in Beachwood, OH
Over 1,500 pre-K to 12 students in Beachwood are serviced by Beachwood City Schools. The school district has earned numerous awards for its top-quality education, including three U.S. Department of Education National Blue Ribbon Awards and the rating of Excellent from the State of Ohio Department of Education.
The following public schools constitute the whole of Beachwood City Schools:
Fairmont Early Childhood Center: Pre-kindergarten
Bryden Elementary School: K to Grade 2
Hilltop Elementary School: Grades 3 to 5
Beachwood Middle School: Grades 6 to 8
Beachwood High School: Grades 9 to 12
Areas of interest in Beachwood, OH